That Which Has Seemingly Influenced Thomas Pynchon


This is a scatter diagram.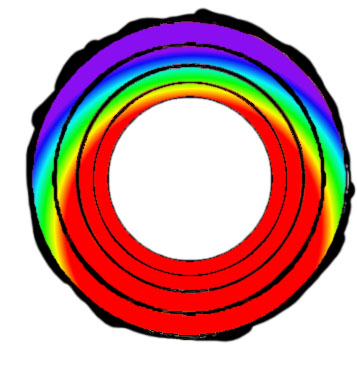 We have herein constructed an overly simplified yet functional x-y graph, wherein we have plotted a superfluous yet inadequate number of points, and we have done so in the ardent, irrepressible hope that our seemingly random points will begin to cluster at some point (some determinate x-y coordinate) therein.

Ultimately, what form will the cluster assume? Animal, mineral, vegetable, perhaps merely the micro-dot, comicstrip image of an unfairly persecuted author who sincerely wants to be left alone?

Apology hopefully inherent, we have here undertaken to summarize and anthologize some of "that which has seemingly influenced Thomas Pynchon." Since we can't actually see him, we can, in this manner, at least gain a vague idea of what his general outline might look like . . .


"He's grinning in our direction, but not, of course, at us."
David Gale, writing about Pynchon, in "The Quest for Pynchon," Tatler London, Jan. 1990
Literati Scatterati Diversa Influentia e Corrupta
In 1959, Pynchon applied for a Ford Foundation fellowship; his application included an autobiographical sketch in which he reportedly details his literary development:

"[H]e divides his writing life into five principal phases:
an initial period of romanticized war-stories;
a second of athesim/logical positivism that led to a rash of science fictions;
a third (and romantic) phase that brought imitations of Thomas Wolfe, F. Scott Fitzgerald, and Lord Byron;

then two years in the Navy and a swing back to

a classicism that (he says) brought imitations of Henry James, Nelson Algren, and William Faulkner;
then a fifth, back at Cornell for his junior and senior years, when he dabbled at but became fully disaffected with the Byronic romanticism of the Beats (Kerouac, Ginsberg), thus to begin a set of Voltairean, "Candide-like" stories, a foretaste of the satires written in his maturity.
This brought him safely up to the present, to 1959, where he saw himself ''entrenched on the T.S. Eliot side of no man's land'" ( from "Thomas Pynchon at Twenty-Two: A recovered Autobiographical Sketch" by Steven Weisenburger; American Literature, Volume 62, Number 4)
The same autobiographical sketch reportedly describes what he perceived as a constant fluctuation between Classicism and Romanticism within his writing style, structure, and subject matter.
Ironic? Pynchon said (and the italics are ours), "the Cornell seminars taught him the way of crafting a fiction around one central metaphor that unifies its sometimes very disparate and complex elements of character, imagery, and action."
The MLA Bibliography lists citations for studies addressing Pynchon and his sources in such authors, personalities, and genres as: Richard Farina, James Bond, William S. Burroughs, James Joyce, William Faulkner, T.S. Eliot, William Butler Yeats, Hobbes, Hogarth, science fiction, Vladimir Nabokov, Lewis Carroll (Alice in Wonderland), classic spy novels, Ernest Hemingway, Conrad's Heart of Darkness, Franz Kafka, Karl Baedeker's guidebooks, Norman Mailer, Saul Bellow, Herman Melville, Mark Twain, Kurt Vonnegut, Joseph Heller (Catch-22), Beat poets/novelists, and Samuel Beckett
In 1959, Pynchon and his good friend Richard Farina went to a masquerade ball, Pynchon as F. Scott Fitzgerald and Fari–a as Ernest Hemingway. As Pynchon relates in the introduction he provided for Farina's Been Down So Long It Looks Like Up to Me, they were both aware "that the other had been through a phase of enthusiasm for his respective author. I suppose by then I was learning from Farina how to be amused at some of my obsessions."
In the same introduction, Pynchon refers to Warlock, by Oakley Hall, as "among the finest of American novels."
In the introduction to Slow Learner Pynchon says the same of On the Road by Jack Kerouac.

Also in Slow Learner, Pynchon explains, "At the simplest level, it had to do with language. We were encouraged from many directions--Kerouac and the Beat writers, the diction of Saul Bellow in The Adventures of Augie March, emerging voices like those of Herbert Gold and Philip Roth--to see how at least two very distinct kinds of English could be allowed in fiction to coexist. Allowed! It was actually OK to write like this! Who knew? The effect was exciting, liberating, strongly positive."

Cultura Popularius Dementia, Americanus Essentialus

Of the visual:

Frank D. McConnell writes, "Pynchon, true child of his age, has been influenced profoundly by the 1939 film The Wizard of Oz."

In describing his short story, "Under the Rose": "Most of it, happily, is chase scenes, for which I remain a dedicated sucker-it is one piece of puerility I am unable to let go of. May Road Runner cartoons never vanish from the video waves, is my attitude."

Jules Siegel relates in his notorious Playboy submission, "Who is Thomas Pynchon . . . and why did he take off with my wife?", that Marilyn Monroe's death "grieved [Pynchon] heavily."

"It seems that Pynchon's sister Judith once taught at Suffolk Community College and a colleague of [John Krafft, editor of Pynchon Notes]'s actually dated her, and actually asked her, one time, 'What's your brother likely to be doing right now?' and she said 'Watching The Brady Bunch.' This, I learn, is a wholesome family sitcom which was run and rerun throughout the Seventies, and it's Pynchon's favourite show. So, Tom is just like you and me! He watches cruddy TV!"


Of the tastebuds:

Pynchon allegedly "insisted upon stopping to get a pizza to calm his stomach" before proceeding in his intended revelation to Siegel that Pynchon and Siegel's wife had been having an affair.

In the introduction to Been Down So Long It Looks Like Up to Me, Pynchon reminisces about a class he and Richard Farina had taken together, relating that they had "studied for the final at Johnnyās Big Red Grill over bottles of Red Cap ale."
In the posthumously published Long Time Coming and a Long Time Gone, Richard Farina recalls, "We moved into the midway and bought tacos and beer. Pynchon coming to life with the tacos, not having had any Mexican food in a couple of weeks . . .".


Of the sonorous sort:

Pynchon is passionate about jazz music, and particularly so about Thelonius Monk.
He is wholly familiar with opera; his Ford Foundation fellowship application had expressed his desire to write comic opera and to "adapt contemporary American Science Fiction to the operatic stage."
Pynchon wrote that Spike Jones, Sr.'s orchestral recordings had "a deep and indelible effect on me as a child."
When Siegel visited Pynchon previous to interviewing Bob Dylan and revealed the nature of his assignment, Pynchon simply stated that Siegel ought to interview the Beach Boys.
In an action which surprised many of his fans, Pynchon allowed himself to be mentioned on The John Laroquette Show, stipulating that he must be portrayed as wearing a Roky Erickson t- shirt. (Roky Erickson is a musician.)
Pynchon supplied the liner notes to Spiked! The Music of Spike Jones. In his notes, he writes of Spikeās unique blend of music as being "like good cowbell solos, few and far between."

Of the ultra-sensory quality:

On the writing of Gravity's Rainbow, Pynchon reportedly told Siegel, "I was so fucked up while I was writing it . . . that now I go back over some of those sequences and I can't figure out what I could have meant."




Societus Perversia, Delusionium em Advancium, Progressiva

London-based publisher of V. Tom Maschler reports, "[Pynchon]'s fantastically aware of everything around him. He has an incredible facility for picking up what's going on, in the papers, on the radio, everything. He'd been in London for three days and he seemed to know more about the city than I did."
In accounting for the sexual tone of his short story "The Small Rain," Pynchon wrote, "Maybe this wasn't only my own adolescent nervousness about sex. I think, looking back, that there might have been a general nervousness in the whole college-age subculture. A tendency to self-censorship. It was also the era of Howl, Lolita, Tropic of Cancer, and all the excesses of law enforcement that such works provoked."
In the inroduction he wrote for Richard Farinaās Been Down So Long It Looks Like Up to Me, Pynchon said, "1958, to be sure, was another planet. You have to appreciate the extent of sexual repression on [Cornell University] campus at the time. Rockānāroll had been with us for a few years, but the formulation Dope/Sex/Rockānāroll hadnāt yet been made by too many of us."
Pynchon partially explained the attitudes about gender evident in "Low-lands": "maybe I was picking up on male attitudes that were then in the air-more documentably, inside the pages of men's magazines, Playboy in particular." About Pig Bodine's decidedly un-"PC" attitudes: "There had prevailed for a while a set of assumptions and distinctions, unvoiced and unquestioned, best captured years later in the '70s television character Archie Bunker."
From the introduction to Slow Learner: "Displacing my personal experience off into other environments went back at least as far as 'The Small Rain.' Part of this was an unkind impatience with fiction I felt then to be 'too autobiographical.' Somewhere I had come up with the notion that one's personal life had nothing to do with fiction, when the truth, as everyone knows, is nearly the direct opposite . . . for in fact the fiction both published and unpublished that moved and pleased me then as now was precisely that which had been made luminous, undeniably authentic by having been found and taken up, always at a cost, from deeper, more shared levels of the life we all really live."
Pynchon told Siegel, "Every weirdo in the world is on my wavelength."
Whether from Kerouac's On the Road or Helen Waddell's The Wandering Scholars, Pynchon understood and diagnosed the day's youth's "temptation to go out and see what was happening."


Politicus al Futurum: Apocalypsum/Acceptatius/Toto/Sadnessa/Survivium

From the introduction to Slow Learner: "Our common nightmare The Bomb is in there too. It was bad enough in '59 and is much worse now (1984), as the level of danger has continued to grow. There was never anything subliminal about it, then or now. Except for the succession of the criminally insane who have enjoyed power since 1945, including the power to do something about it, the rest of us poor sheep have always been stuck with simple, standard fear."
Citing Norbert Wiener's The Human Use of Human Beings and Adams' The Education of Henry Adams, Pynchon reveals, "A pose I found congenial in those days-fairly common, I hope, among pre-adults-was that of somber glee at any idea of mass destruction or decline."
McConnell stated: "For if Slothrop is a postnuclear Aeneas, following the thread of his destiny in the burned-out zone of war, he is also a paranoid, metaphysical Dorothy, wandering through a hellish Oz in search of a magic-even a potentially phony magic-which can show, simply, the way back home. . . But the chance [for resurrection] is there, in the ordinary and still-unextinguished human feelings of love, sadness-even perhaps in the very laughter of hopelessness-and Pynchon's myth overwhelmingly establishes both the precociousness of that chance and the gigantic odds against it."
Pynchon described his first short story, written in high school: "it was set during WWII, in the South Pacific, and centered on a theme of anti-idealism; he claims the story was written to show how 'a concrete dedication to an abstract condition results in unpleasant things like wars'."

Pynchon himself spent two years in the Navy (1955-1957).



Educationus Advenuturum: Scientificus Politicus Sexus e Religiunium

In his book Long Time Coming and a Long Time Gone, Pynchon's close friend Richard Farina describes a political confrontation initiated by Farina's sister-in-law, Joan Baez, at which Pynchon was present (the piece is entitled "Monterey Fair"). The "run-in" involved members of the controversial John Birch society: the members protested that they desired peace, as long as it was "on [their] terms"; Baez, Farina, and the others argued for faith and mutual understanding as means toward peace. The piece is revealing and eloquent in the portrait of Cold War America-as-unintentional-battleground which it suggests.
Pynchon himself holds pronounced views about racism. He contributed an essay to The New York Times Magazine, "A Journey Into The Mind of Watts." The essay is remarkable in the vivid, invariably direct nature of his observations; his position and sympathies are clear though he never refers to himself.
Pynchon did write from his own life experiences, it seems. For example: In his essay "The Quest for Pynchon," published in the journal Twentieth Century Literature, Mathew Winston suggests that "The Small Rain" seems "to contain at least some autobiographical elements," citing an actual hurricane, a college campus-based rescue force, and the hundreds dead or missing from a Louisiana town at which Pynchon may have been present. Jules Siegel also alleges that his wife Chrissie performed Shirley Temple impressions (fictionalized in Gravity's Rainbow with Bianca) and refers to an instance in which she removed her shirt in a moving vehicle, thereby attracting the attention of fellow motorists (Jessica did likewise in GR), and Pynchon's actual ancestor William Pynchon is suggested in the GR character William Slothrop.
Pynchon's extensive background in engineering, mathematics, and the sciences is evident throughout his novels: "Indeed, as Joseph Slade disclosed in his pioneering study Thomas Pynchon, ideas such as information theory and entropy, the mathematics of probability and the physics of flight, can all be brought to bear upon the search for a real or illusionary pattern to our lives."
Pynchon was raised Catholic: According to Siegel, "He went to Mass and confessed, though to what would be a mystery."








Copyright © 1995-97 San Narciso Community College