---
"Pulitzer Jurors Dismayed on Pynchon", New York Times May 8, 1974.
All three members of the Pulitzer Prize jury on fiction expressed distress and bewilderment yesterday that their unanimous recommendation for a prize for Thomas Pynchon's 'Gravity's Rainbow' had been turned down and that no fiction award was given this year.

... Other members of the 14-member board, which makes recommendations on the 18 Pulitzer Prize categories ... had described the Pynchon novel during their private debate as "unreadable," "turgid," "overwritten," and in parts "obscene." One member editor said he had tried hard but had only gotten a third of the way through the 760-page book."
---

Slothrop Meets Octopus Grigori (pp. 185-187)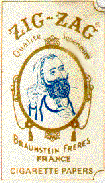 "You will show me your papers!" hollers the leader of the raid (p. 442).

V-2 Info and V-2 movie (QuikTime or MPEG)

---
Brian Stonehill's essay on Pynchon's Prophecies of Cyberspace
An article on GR by Heikki Raudaskoski, University of Oulu, Finland
A summary of GR by Alec McHoul
Wernher Von Braun's article on immortality.
---
[ Links about Thomas Pynchon's Gravity's Rainbow ]

[ To Pynchon Page ]

Copyright © 1995-97 San Narciso Community College